Staff
Our dedicated staff members are here to provide support, compassion, and information to help you through your journey of grief and the celebration of your loved one's life.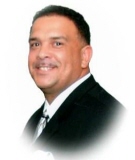 Shawn Stapleton
Owner
Thomsonfuneralsystem@gmail.com
On Tuesday, May 19, 1964, in Newark, NJ a bouncing baby boy was born to Mr. and Mrs. John Wilbur (Hattie Gibson) Stapleton, and he was given the name Shawn Stapleton. Shawn is the "knee baby" of his family. His siblings are, Tommie, Shelia, Joan, Vincent, and Stanley. Shawn and his family moved to Wrens, GA from New Jersey when he was around three and a half years old. They lived in Wrens for about six months or so and then relocated to Thomson, GA. In his early stages of life, it was apparently obvious that Shawn was a very friendly and well-spoken child that enjoyed being around people. He never met a stranger. Shawn was educated in the public school system of McDuffie County, GA where he excelled academically. Shawn completed his studies early in February of 1982 and graduated with the Thomson High School Class in May of 1982 with a college preparatory diploma. During the interim, he began college.

Shawn accepted Christ as his personal savior at a young age and joined the Mount Aldred Christian Methodist Episcopal Church of Warren County, GA. He later joined the Springfield Baptist Church in Thomson, GA. He would often attend different churches in the CSRA as a child and participate in many church programs. His family members once thought that one day he would be a preacher. At the age of twelve, he preached a sermon to his siblings which they jokingly called his trial sermon. Shawn was blessed with a beautiful tenor voice and he used his talent in the choir. He really enjoyed Sundays so much that he wished every day was Sunday. Spending time in churches, and getting to know people was definitely two of his greatest pleasures.

At the age of nine, he started working for Lindsey Reeve's Candy Co. to make life a little less stressful for his mom. He wanted to buy the little things that he and his siblings wanted, not needed. While in high school, he began working with Mr. Thomas Freeman, the owner of Freeman Funeral home, in Wrens, GA on the weekends. Shawn realized a special interest was stirring within him. Eager to learn all he could, most times after school he would sit and talk with Mr. Willie Ferrell of Hardwick Funeral Home about the trade of the funeral business. Mr. Ferrell noticed the desire to learn that was instilled in Shawn, so he started letting him assist on funerals. Shawn was so enthusiastic to learn and thirsty for knowledge that he wanted to know everything he could about the funeral business from everyone he could as a teenager. He worked under the late Mr. John Crawford, former Owner/Operator of the former Crawford Funeral Home of Thomson, GA and Mrs. Williette Elizabeth Haynes, former Owner/Operator of the former G.L. Haynes Funeral Home in Warrenton, GA.

Shawn was so intrigued yet passionate about the funeral business, that he knew this was his calling. As a young kid, he had dreamt of owning and operating a funeral home, but now he knew it was his destiny. Without a doubt, he knew that God had called him for this purpose, so he followed His guidance. In March of 1982, he attended Gupton-Jones College of Mortuary Science in Atlanta, GA. He successfully completed all studies and graduated in 1984. Afterward, he began his apprenticeship with the Murray Brothers Funeral Home in Atlanta, GA.

Upon completion of his degree, Shawn returned to Thomson to pursue his God-given dream.
"Millions can say NO, but all you need is one YES from God"
Shawn had a plan for business and acted upon it. In 1985, he purchased the Thomson Funeral System from the family of the late E.G. Long. It was in October of 1985 that the Funeral Services State Board granted him a license to operate, so he reestablished Thomson Funeral System as his own. On Tuesday, the 26th day of November in 1985 to be exact, he opened the doors for business at 536 Martin Luther King Street formerly known to many as "Pine Street." Thanks to the community, Thomson Funeral System thrived in this location. Shawn loved the location and the close proximity to the community, but he began to realize he needed more space to better serve the families in need. This commitment to expand lead him to the purchasing of his current facility, 505 Gordon Street where he opened the doors in June of 2009. As of today, Shawn has been successfully operating for over 33 dedicated years.

While operating his own funeral business, he was asked to manage the former Moore's Funeral Home of Harlem, GA, the former G.L. Haynes Funeral Home of Warrenton, GA and the Freeman's Funeral Home of Wrens, GA. Unselfishly and honored, with pride he gladly helped the directors/owners as if he was working at his own facility for himself. He eventually became the point of contact for all the establishments. In 2011, to carry on the legacy of the Freemans, Shawn inherited the Freeman's Funeral Home from his godparents, Thomas & Walton B. Freeman, as the sole owner.

Although he has many, one of Shawn's favorite moto's in life is a poem written by Charles Meigs entitled OTHERS.
Lord help him live from day to day in such a self-forgetful way. That even when he kneels to pray his prayer shall be for – others...
Shawn is very active in his local community as well as neighboring communities giving of his time and talent unselfishly. He loves to listen to Jazz and Gospel music daily. To date, his favorite gospel song is Be Ye Steadfast Unmovable by the Florida Mass Choir. The lyrics to this song speak volumes to him daily.
Your labor, your labor, your labor is not in vain
Hang on in there. Be steadfast, unmovable,
always abounding in the word of the Lord.
In his limited spare time, he finds some relaxation in watching tv-reality shows with the 600lb Life being his favorite. He is often encouraged from the character's perseverance in the shows. Although he doesn't eat fish, Shawn loves to go fishing, but his spare time is so limited that he can't go as often as he would like. He also enjoys gardening and flowers. He exhibits his green thumb efforts at the funeral home with his flowers in the front yard and on the front porch. He strives to keep them beautiful year-round.

Shawn's favorite bible verse is:
I can do all thing through Christ which strengtheneth me.
The life he's lived thus far is reflective of his favorite verse. With God on his side, Shawn has dreamt a dream and saw it through fruition. Serving others has been his ultimate calling. He does it from the heart, with dignity and respect. His integrity helps him build the positive relationships within the community. Therefore, he has established a legacy within the community as a pioneer of successful business ownership. Shawn plans to be around until God decides otherwise. He is so grateful for all of the families who have come to him in their time of need, and thankful to God for making his dream a realization!